Our live streams will be played at the top of this page.
The COP26 event is a global United Nations summit about climate change and how countries are planning to tackle it. COP stands for Conference of the Parties, and will be attended by countries that signed the United Nations Framework Convention on Climate Change (UNFCCC) – a treaty agreed in 1994.
The last conference, COP25 in Madrid, finished with lots of big issues unresolved, but an agreement was made about cutting carbon dioxide – a gas that causes global warming.
Each nation agreed to devise a plan to cut their carbon emissions by the next conference in Glasgow.
COP26 will be the biggest summit the UK has ever hosted and the UK government declared 2020 a "Year of Climate Action".
As well as the targets for changing to electric cars, the government has pledged to reduce the UK's carbon emissions to "net zero" – which means releasing virtually no carbon – by 2050.
This means emissions from areas like transport, farming and industry will have to be avoided completely or offset by sucking CO2 out of the atmosphere.
We took the opportunity of COP26 to showcase the admirable work of our Scottish communities in tackling the climate crisis and to share stories of international climate community resilience.
There are mixed feelings and hopes about COP26 within the climate action movement. SCCAN supports climate activists who fairly and peacefully protest against a greenwashing agenda and demand a just transition and climate rights for all.
Whether you are interested in and able to attend COP26 Glasgow in person or not, we would like to warmly welcome you to our members events and activities on this page and offer some extra content linked to the exhibitions and events.
COP26 SCCAN Events
We Are Net Zero Nation!
📅 When?
Friday, 12th November 2021 09:30 – 18:30
🧭 Where?
50 Pacific Quay
Glasgow G51 1EA
Clyde Suite, based on the ground level of Glasgow Science Centre
Stand 6, Next to Silent Cinema
🌍 What?
This exhibition shows how Scottish communities have taken action to tackle the climate emergency and achieve the net zero targets necessary to do so. A diverse and wide-ranging showcase of projects and services of those who are leading the way on climate action within their local communities – short films, posters, workshops, virtual tours and displays of upcycled work are some of the elements you can find at We Are Net Zero Nation! telling the story of our Scottish communities' climate action.
🎫 Tickets
Book your tickets for COP26 Green Zone here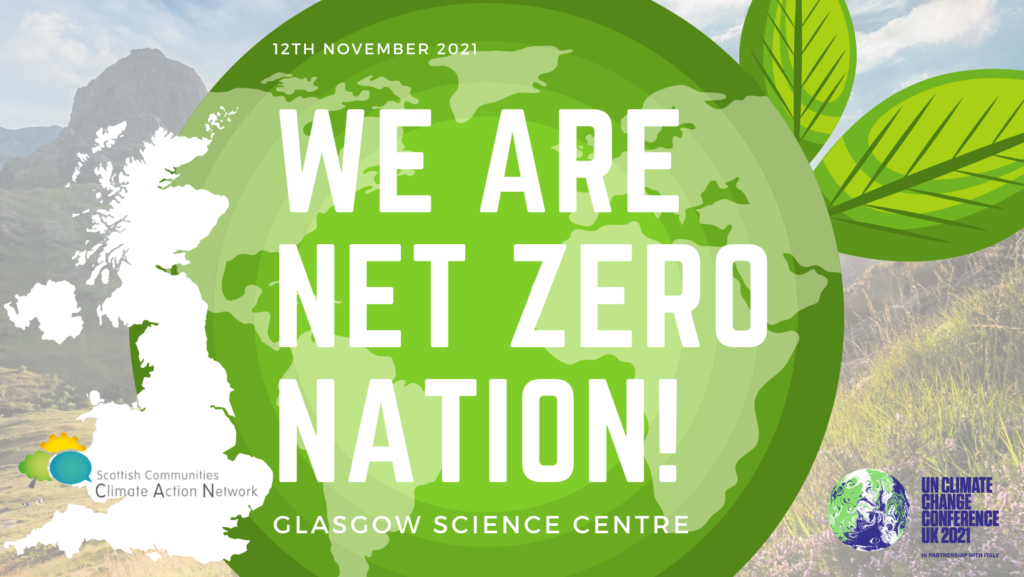 Watch this space for details, live streams and extra content for our members' showcases for We Are Net Zero Nation!
Queries: Joana Avi-Lorie at events@scottishcommunitiescan.org.uk
---
Climate Reflections + Witness Report Series
📅 When?
Saturday and Sunday, 6th and 7th November 2021 10:00 – 16:30
🧭 Where?
National Mining Museum Scotland
Lady Victoria Colliery
Newtongrange
Midlothian
EH22 4QN
Exhibition Room
🌍 What?
Climate Reflections and Witness Report Series bring together the voices of Indigenous people fighting for their way of life, communities in the global south already on the frontlines of climate change, and those in Scotland beginning to explore what this crisis will mean for our world.
In a collaboration between Scottish Communities Climate Action Network, the International Institute for Environment and Development and Arkbound Foundation, these stories are told in a wide diversity of voices, knowledge and perspectives in the communication about climate change and in the mediums of photographs and posters, short films and live panel discussions.
We hope to offer new means to express, reflect on and connect to the climate emergency through the first-hand experiences shared in 'Climate Reflections' and 'Witness Report Series' and that these stories will help to "to make sense of the indescribable" and put a human face on climate change – to inspire urgent, ambitious action to protect people and the planet we love.
🎫 Tickets
Facebook Event for more details
The event is free and there is no need to book in advance. However, for the live interviews panel the seating might be limited due to COVID-19 restrictions and we will seat attendees on the basis of first come, first served.
This event builds on Climate Reflections, an online exhibition at Glasgow Science Centre's Curious About Our Planet.
Watch this space for details, schedule, live streams and extra content for Climate Reflections + Witness Report Series
Queries: Joana Avi-Lorie at events@scottishcommunitiescan.org.uk
---
Other SCCAN Members events for COP26
Check out all the latest information about our members' events around COP26 on their websites
📢 Global Day of Action for Climate Justice – Saturday 6 November
🌍 Aberdeen Climate Action and NESCAN
For SCCAN members, please get in touch if you want us to add your events to this page.