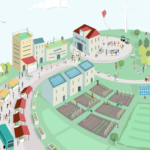 The Essential Guide to Doing Transition is an invaluable guide for any community group that is just getting going and wants to re-imagine and rebuild our world from the bottom up.
These are a range of resources that SCCAN has commissioned or developed or which have involved SCCAN members. 
Using case studies from SCCAN members, Shifting Normal uses the ISM model of understanding how behaviour change happens to help guide the design of more successful community projects.
Are We Ready?' is a resource developed by SCCAN in conjunction with
Adaptation Scotland. All the resources you need to run a short workshop to get any group in your community starting to talk about climate change and how we can become more resilient.
Community projects often need to work closely with their Local Authority. This can be challenging for both sides. This report commissioned by SCCAN is a very helpful guide to establishing successful partnership working. There is also this 'top tips' summary.
This Climate Justice workshop is a resource that is freely available to run in your community. Developed in conjunction with SCCAN by Surefoot Effect and the Comparative Media Studies department at the Massachusetts Institute of Technology. It consists of an easy to follow facilitator guide and two short videos.